In celebration of their 10th Anniversary, Detroit's comic shop supreme
Green Brain Comics
kicks off a summer full of events with the inaugural exhibition in their new art gallery space.
Entitled "The Best of the Green Brain Comic Jams" this exhibition features some of the most unique, humorous and downright baffling pieces of comic art created by a host of local and visiting cartoonists. These works have been culled from a huge library of collaborative works created over the last several years at monthly Comic Jams.
"We have been inviting local cartoonists to collaborate on comic jams on the second Wednesday of the month for years." says Dan Merritt, co-owner of Green Brain Comics "And we thought it would be great to open our gallery space by showing off some of the gems that were created right here by some of our good friends and talented cartoonists."
The opening reception runs from 7pm to 10pm on Saturday, June 20, 2009.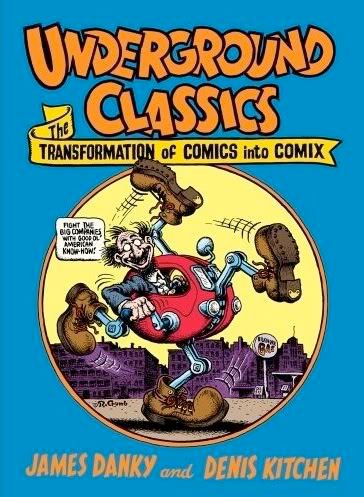 And just six days later, author James Danky will present a slideshow and be signing his book,
Underground Classics
on Friday June 26th from 5pm to 7pm. Mr. Danky is both co-author (along with Denis Kitchen) and co-curator (same) of the art exhibit
Underground Classics: The Transformation of Comics Into Comix
(running May 2 through July 12, 2009 at the Chazen Museum of Art in Madison, WI).


Underground Classics
provides the first serious survey of underground comix as art, turning the spotlight on these influential and largely underappreciated artists. Essays from the book's co-writers and co-curators James Danky and Denis Kitchen, alongside essays by Paul Buhle, Patrick Rosenkranz, Jay Lynch, and Trina Robbins, offer a thorough reflection and appraisal of the underground movement. Over 125 original drawings, paintings, sculptures, and artifacts are featured, loaned from private collections and the artists themselves, making Underground Classics indispensable for the serious-minded comics fan and for the casual reader alike.
So, if you're in the neighborhood, visit Green Brain Comics at 13210 Michigan Avenue in East Downtown Dearborn and see what Jams they've got on the walls! More information can be found at
www.greenbrain.biz
or by calling 313-582-9444.